Ok, its official, after a forced secret voting, my buddies here selected a line that I say almost everyday. My famous line;

'Macha...I think we're lost...'
Yes, I self proclaim I know every single road from my hometown, SP to the great capital of Malaysia, Kuala Lumpur...but provided, we get lost the first time, almost everytime. I don't know how I do it, but it happens. But ofcourse, its all for good, sometimes we discover new places, meet new people...(and I can almost hear
Jegan
saying, poda dei...Don't try to cover up...).
*Do you guys have famous one liners? Please share with me, ill post it in an update. This will be the One Liner Tag. For starters I'm tagging
Visi
,
Saravana
,
JVC
,
Mike
,
Prakash
and
Lorena
.
* Macha is Tamil word to call a guy, something like 'dude' or 'bro'. 'Poda dei' means...hemm...go to hell dude...or something like that.
****** point of origin ******
[-] I read this post sometime back at
Karthiks
site;
ETCETERA
, and I downloaded the song, and its really addictive.
[
+
] Here's a link to the post; click
Here
. The songs title is
'Uravugal Thodarkathai'
by Maestro Illayaraja. Its a really inspiring song in a very beautiful composition. The title in English translates to 'never-ending bonds ' ...That sounds not very convincing, but in Tamil it brings such sad, beautiful, happy memories.
****** a musical interlude ******
****** point of origin ******


[+] 2050 is growing! Be There!
[-] This is my 99th post in this blog!
[-] Lets pray for the safety and well being of all the victims of the Katrina and Rita storm in USA and also everyone affected by natural disasters around the world. Please do all you can to lighten their burden. Visit American Red Cross.
[+] Found this cool photoblog; [Midnight Madness]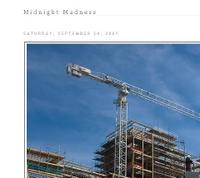 [+] A very Happy Birthday to the one and only Nagin, he was born on the 25th of Sept 1979 and is the first ever friend I had long long ago. (he was my neighbour then :p)
[+] Heading back to uni today after nearlly 3 weeks of self declared holiday. I make it all sound easy and happy...but the truth is the very opposite. I'm sad that I did not get the job, but there's too much politics and power play in the system. Someday, in the future, the truth shall be known...
-gp2005-