[-] Hi all, thanx for guessing these images. Prabhu (adenggapa) got the first image correct (how did you guess it!!! and also the Ayers rock. Mike got the Krakatoa correct and Backut got the Ayers rock and Krakatoa correct as well. I hoped of more people to respond to this. Well another time another day...
(1) An oil refinery island off the coast of Singapore
(2) The remnants of the Krakatoa Island Volcano
(3) The Amazon river delta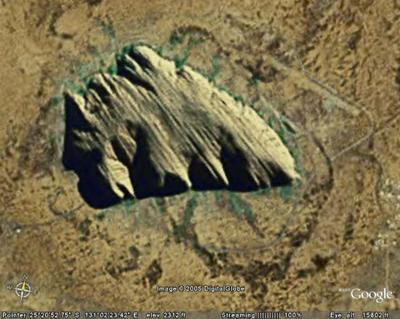 (4) Ayers Rock in Australia
(5) An Oasis north of the Sahara Desert.
****** something else ******
[-] All the images were taken from Google Earth.
[+] Found this cool photography site, I think it's in Portuguese language, the images are beautiful. (some discretion over nudity) Click here.
[-] And, my 'little' music project, supervised, composed and published by Fred and made into an album with hard work and effort by all the guys at Daymoon, Hugo Flores of Sonic Pulsar, Michael Dorp of Flying Circus, Mark Quertin, Jeff Markham, Mark Mamanta, Logan Thomas, Davis Raborn, Alvaro Silveira of Miosotis and countless others (available for download for free from the Daymoon site) is receiving air play on RUA FM in Portugal!!! I'm thrilled!
-gp2005-
Ghost Tags: