Alaskan Aurora
* More images of aurora's at:
****** point of origin ******
2050 A Journey
is Alive. Head there and be a part of history 45 years in the making.
-gp2005-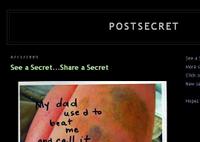 [-] My blog of the post for this post is
"PostSecret"

.
An amazing blog project where readers send creative postcards to be posted on this site. Great stuff. (caution: some nudity and vulgarity).
[-] A cool link for vintage postcard lovers. Contains vintage postcards from around the world:
Postcardman.net