Yep, its raining again. And here I am, stuck in my lab, again. Next time maybe I'll bring my sleeping bag. I wonder what happened to the real monsoon season, the one that was taught at school. The earths climate is so screwed up these decades that we cant predict anything. In years to come, expect more heavy rain, colder days and storms.


************ a poetic interlude **************
Rain of Love and Sunshine
Dark sunshine far in front,
Reflection of maxims,
And occasional angels,
In the fields of golden dreams,
Tiny firefly dancing the night away,
Dawn not insight for hours to come,
Caterpillars savor their final feast,
Jade leaves morphing to yellow in decades,
Wild flowers on the forest floor peeking,
Rainbow stars on their way to death,
Clouds of mist, ice and baby rain,
In the night sky standing tranquil,
Wind not blowing here but in far away lands,
Junks on high seas fighting waves,
On which metallic giants walk and dig,
Frescoes and frenzy music in cities awake,
Streetlight bathing the sleeping dog,
Mothers waiting for their child,
Reflecting on the moon seducing falsely,
Many men and women sin tonight,
Brothers and sisters with tears for reasons,
Tomorrow there might be death or birth,
The earth drifting not knowing of me,
Elements working on their future fate,
Everyone and everything ignoring me,
Why should I cry for something of Love?
That I never had, that's gone.
-Gp 2005- 14/07/05
****************** back ***********************
Talking about love and rain. When both 'falls' together something magical happens, that you cant explain. That feeling deep inside you, of something swelling up from the bottom of the heart to the head. Everything you see and hear sounds beautiful. Love. Being 25 and not being in love feels so strange. Life is dark and lonely. Watching others in love bringspainfull feelings more that happiness. Do I need love? Should I be looking for love? How long more do I need to wait for it to come? Comments are welcome.
* Have a nice weekend to everyone (wishing early in case Idon'tt get net timetomorroww)
*
Fred
is still looking for Indian musicians to participate in various music projects. The free download is still available at the
DAYMOON
site.
*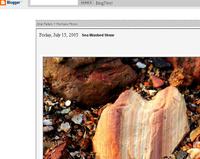 Umai Padam
is a cool photo-blog from a fellow Malaysian Indian;
Maran
. Surf and be inspired. (starting from this post, I'll review/link one Indian blog each time)