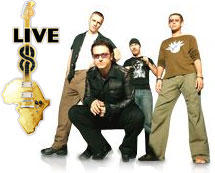 And on this day of summer,
during the years of dark winter,
we stood there in sunlight,
we called for the king men,
we cried to the king men,
stop a second and look here,
we begged to the king men,
please save our brothers and sister,
and when that one day comes,
My musical weekend. Started of with the
Live 8
concert. Managed to watch about 9 hours of it. Its an amazing production. And the best of all, nearly 3 billion people watched it live, online, at home, on air and everywhere. 10 cities staged concerts around the world while in
Philly
alone, nearlly 1 million fans were reported.. If this message is not enough for the G8 to amend the zero poverty plan by eliminating the debts of African countries, then nothing else will do.
Kudos to
Astro
for the special Channel 88 (Live 8) just for this effort. The concert is to be repeated twice for the full length of 11 hours each. Its amazing how this
group of the best musicians
from around the world got together for free to realize a dream 20 years in the making. The original
Live Aid
concert was staged back in 1985 and managed to collect millions to help Africans fight famine and poverty. Today the problem is worst than ever in Africa and its time again for us to get together to save them, and show them the way to human development to the par of the rest of the world. Thank you;
LONDON - PARIS - BERLIN - ROME - PHILADELPHIA - BARRIE - TOKYO - JOHANNESBURG - MOSCOW - EDEN PROJECT
**********************************
Thiruvasagam in Symphony is a giant effort by
Tamil Maiyam
with Maestro Illayaraja and scores of Western composers to create a oratorio of the Thiruvasagam verses. Since I could not source the album here in Malaysia, yet. So I listened to the composition on the net. Hope the 'hardcore fans' would not go to the length of pirating this one. Its for a good cause and please help safeguard our language and culture folks. Don't Pirate TIS!!!
All said, TIS is a excellent effort, among the best ever. The 6 songs/ compositions vary greatly and you would not stop listening to it. Its just great. The western/ eastern fusion are seamless. Ill post more once I purchase the album.